CALIFORNIA AIRCHECK

Celebrating our 39th Anniversary this year! California Aircheck has been serving the radio industry from around the world since 1980 with both audio and video airchecks of radio personalities. California Aircheck offers hundreds of hot radio aircheck tapes that may be purchased individually or by yearly subscription. New tapes are produced monthly from a variety of formats. You may pay for orders by check, money order, or credit card (Visa, Mastercard or Discover.) Orders may be placed by mail, phone or FAX line 24 hours a day, 7 days a week. Since August 1999, you can order the new tapes and past Classic Issues on Compact Disc in addition to cassette format. See below for individual tape order forms for cassettes and CDs and subscription forms for cassettes and CDs. CAN YOU AFFORD NOT TO BE USING CALIFORNIA AIRCHECK? Get the jump on great programming ideas before your competition does! Do you want them using CALIFORNIA AIRCHECK and leaving you in the dust? CALIFORNIA AIRCHECK has been the world's most trusted Aircheck Service for 39 YEARS!

ORDER ON-LINE WITH VISA/MC/AMEX/DISCOVER
The Jingle Depot The new California Aircheck JINGLE DEPOT offers CDs of 50's-60's-70's jingles from Classic Top 40 stations along with A/C and Country stations.
WE'VE MOVED!

CAN'T FIND WHAT YOU'RE LOOKING FOR? CALL OR E-MAIL USING THE LINK DIRECTLY BELOW. CUSTOM CDs CAN BE CREATED TO YOUR EXACT SPECIFICATIONS. CLASSIC ISSUE AIRCHECKS ARE $8.50 EACH; ALL OTHERS $7.50 EACH ON CUSTOM ASSEMBLED TAPES.
California Aircheck
85478 Sagaponack Drive - Fernandina Beach, FL 32034
Phone (904) 548-9845
Fax (904) 548-9846
Order 24 hours a day ,7 days a week
| | |
| --- | --- |
| | To celebrate the opening of CALIFORNIA AIRCHECK'S new office location in Jacksonville, Shotgun Tom Kelly of K-Earth 101 in Los Angeles personally flew out to present George Junak with a Shotgun Tom bobble-head doll |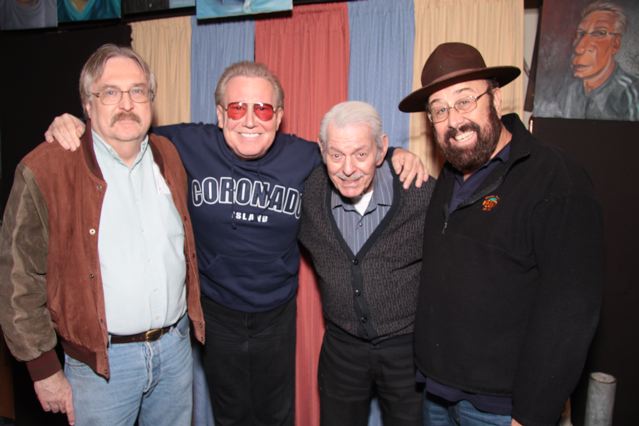 l-r George Junak, California Aircheck, Tom Riopele KNX Los Angeles, Jack Vincent (former KCBQ Chief Engineer & DJ from the 60's-70's), Shotgun Tom Kelly KRTH Los Angeles
photo from Shotgun Tom's Saturday Night Pool Party 2-7-09
| | |
| --- | --- |
| | The story of radio stations KCBQ, KGB, KDEO, and XEAK as the Top 40 format prevailed over AM radio from 1955 to 1982. Aircheck offers a general history of San Diego radio stations, detailed histories of the four key Top 40 stations, short biographies and photos of each DJ, images of studios, weekly surveys, memorabilia, coverage charts, a glossary of terms, and a full name index. Aircheck deftly covers the degree of competition that occured between stations and among staff to reach and retain top ratings. This soft cover, 8 1/2 X 11 perfect bound book with 112 pages, was privately printed and limited to 1000 copies. Order yours today (autographed copy) bundled with a copy of the DVD of the KCBQ DJ Reunion of 1990 - great stories and on-air performances, just like they did it back in the day! Charlie & Harrigan, Shadoe Jackson, Don Howard, Mason Dixon, Gene Knight & many more included! Only $54 including Priority Mail shipping to US addresses..a $75 value! Click below to order yours now online. |
---
LINKS TO OTHER RADIO RELATED SITES

Legendary Top 40 KXOA Sacramento returns via the Internet. Live streaming of their Old School Top 40 format with Timeless Rock & Roll And Soul 24/7. Click on the logo above .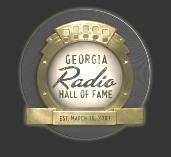 Georgia Radio Hall Of Fame.com An organization which recognizes Georgia radio professionals, past and present, and features cool memorabilia
Radio Earth Show prep, current radio news and more!.
KFXM San Bernardino Website featuring Classic Top 40 KFXM Riverside/San Bernardino/Ontario of the 50's, 60's & 70's
Classic KLIF Steve Eberhart's website devoted to classic top 40 KLIF/Dallas.
Oidar.com John Long's website that includes his on-line book "Puttin' On The Hits" about his exploits as a Top 40 Program Director at WAPE, WHBQ, WROR, etc. back in the 70's
Dan O'Day Books, videos, cassettes, and seminars for radio personalities and programmers.
Blast From Your Past first book in a series about Top 40 DJs from 1954 - 1979 from LinDee Rochelle
All Access Group Joel Denver's website with up-to-the-minute radio news and a chat area for gossip
WRKO Website dedicated to classic WRKO/Boston

KTKT Tucson Website dedicated to classic KTKT/Tucson from the 50's-70's
CKLW Website dedicated to classic RKO CKLW/Windsor-Detroit
WABC Website dedicated to classic Musicradio WABC/New York
Boss Radio "Boss Radio" website primarily focused on classic KHJ/Los Angeles
Classic Philadelphia Radio Website for 60's and 70's Philadelphia radio (WFIL, WIBG, WIFI, etc.
Johnny Mann SingersAmerica's jingle master is still singing the world's greatest jingles!
WFIL Website dedicated to Philadelphia's classic 56/WFIL
OBRanger Gary Allyn's website for his mythical character that was wildly popular in San Diego in the 70's; episodes available on CD
440 Satisfaction Johnny Williams site with tons of info on where past personalities are today
Radio Guide Complete info on the Los Angeles radio market and dial charts for many markets across the country, including formats
San Diego Radio Chris Carmichael's site on the San Diego radio market
M.G. Kelly one of America's legendary Top 40 screamers with a great 80's music syndicated show
Reel Radio Classic airchecks of '60's and '70's Top 40 radio, playable with Real Audio
Bobby Ocean Radio's voice & production wizard
All Star Radio Stevens & Grdnc's show prep website with many radio links
Radio 411 Show prep, broadcast links, message board
Los Angeles Radio People LA Radio People's site; great current LA radio news & info on where DJs are now
RadioLogoLand Classic radio logo items
WPGC Website dedicated to classic WPGC/Washington

| | |
| --- | --- |
| | The story of radio stations KCBQ, KGB, KDEO, and XEAK as the Top 40 format prevailed over AM radio from 1955 to 1982. Aircheck offers a general history of San Diego radio stations, detailed histories of the four key Top 40 stations, short biographies and photos of each DJ, images of studios, weekly surveys, memorabilia, coverage charts, a glossary of terms, and a full name index. Aircheck deftly covers the degree of competition that occured between stations and among staff to reach and retain top ratings. This soft cover, 8 1/2 X 11 perfect bound book with 112 pages, was privately printed and limited to 1000 copies. Order yours today (autographed copy) bundled with a copy of the DVD of the KCBQ DJ Reunion of 1990 - great stories and on-air performances, just like they did it back in the day! Charlie & Harrigan, Shadoe Jackson, Don Howard, Mason Dixon, Gene Knight & many more included! Only $54 including Priority Mail shipping to US addresses..a $75 value! Click below to order yours now online. |