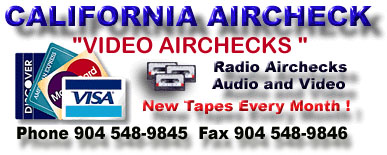 NEW PHONE NUMBER: (904) 548-9845 NEW FAX: (904) 548-9846
Look right into the studios of America's top radio stations and see the country's best personalities on the air as they do their shows!
California Aircheck Video tapes are available in VHS (NTSC format as used in US, Canada, and Japan) or VHS PAL format (for Europe, Asia, New Zealand, Australia, etc.). Please specify the desired format when you order your videos. Videos are $39.95 per copy for VHS and $54.95 for VHS PAL formats. Please add $5 for airmail shipping outside of the US and Canada.

NEW! DVD copies! $45.00 each. These are not spectacular movie quality but better than VHS quality for those who find DVD more convenient than VHS tape. Playable in the US and Canada and anywhere else that an NTSC DVD player is used! (These are Region Free discs)
NEW! PAL DVD copies that will play in your standard DVD player sold in Europe and Australia/New Zealand (or anywhere else in the world that PAL is your video system). $55.00 each for PAL DVD (plus $3 for airmail shipping).

SEPT. 2006
VIDEO #107 $39.95 VHS, $45 DVD

, $55 PAL VHS CONVERSION TAPES for overseas use, $55 PAL DVD

for play anywhere in the world on a PAL DVD player (Region-free DVD). 2 hours

Another killer 2-hour tape! Features Soft AC KYXY/San Diego with morning show SONNY & SUSAN, Hot AC Y-98 KYKY/St. Louis with morning show PHILLIPS AND COMPANY (Guy Phillips, Courtney Landrum, Jen Myers and Kevin The Intern), Soft AC WLIT/Chicago with the MELISSA FORMAN morning show, night jock RAYNE on the PM drive shift at CHR Radio Now WNOU/Indianapolis, PM drive at Adult Hits The Track WNTR/Indianapolis with WILLY B., and AM drive from The Eagle, Country WYAY/Atlanta with RHUBARB & DALLAS.
| | |
| --- | --- |
| | |
KYXY is usually the #1 music station in San Diego and the morning show is typically a big part of that with SONNY WEST & SUSAN DEVINCENT. Unlike other Soft AC stations, KYXY has a very high-profile, personality, fun morning show. Today they do a simulcast cut-in with NBC Channel 39's morning news show (which you'll see from both in-studio and from Channel 39's Split-Screen feed), "Watch, Listen & Win", and a lot of wise-ass banter with KYXY traffic guy Kevin Dean. Great morning show from one of the top AC stations in the country!

PHILLIPS AND COMPANY is the HUGE morning show in ST. LOUIS at Hot AC Y-98 KYKY! Besides super-host GUY PHILLIPS, it's COURTNEY LANDRUM, JEN MYERS, KEVIN THE INTERN and LANCE HILDEBRAND. Very personality-driven morning show with tons of bits and phones. Today they introduce Kevin to the "world of coffee," do the teacher challenge, and give Kevin the MSNBC/L Magazine sex quiz. Hilarious stuff; these guys are cracking up on and off the air!

It's another personality-driven Lite AC morning show from WLIT/CHICAGO and MELISSA FORMAN (with newsguy Rick Zurick, producer Jim & producer Tony). A bunch o' phones with phone bits on the Chicago "Conan O'Brien decoy," Melissa talks with 7 ft. 8 Igor about shoes, and is Rick really taking his mother to the Cubs game for Mother's Day? Well, you'll just have to see the video to find out. And yes, Melissa was very pregnant at the time this was taped. Great AC morning show!

| | |
| --- | --- |
| | .RAYNE is the night guy at CHR Radio NOW WNOU/INDIANAPOLIS, this weeking doing PM Drive for vacationing Nigel. Same act - more light outside. Plenty of phones plus a running bit on TV stars you had a crush on in the past. Great personality CHR show! Done today downstairs in the street-level studio overlooking the Plaza from the Emmis building. |
| | |
| --- | --- |
| | Legendary WILLIE B. has moved to Adult Hits The Track WNTR/Indianapolis and brings along his famous brand of personality radio to the Midwest! Phones and fun as Willie B. plays the Top 40 hits of the 60's-70's-80's-90's on The Track! |
RHUBARB JONES & DALLAS McCADE are the big Country morning show in ATLANTA at Eagle 106.7 WYAY. Very current-events morning show, today with several breaks on the news story of a 12-year-old girl who had run away for a day, the Dallas Daily Dish, and the Dallas Daily Quiz. Very current life driven rather than comedy & hits home with the listeners. Great male-female morning show!
OVERSEAS ORDERS: BE SURE TO SPECIFY NTSC OR PAL VIDEO!

California Aircheck
85478 Sagaponack Drive - Fernandina Beach FL 32034
904 548-9845
Fax to (904) 548-9846