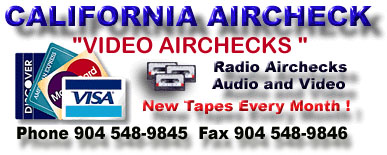 NEW PHONE NUMBER: (904) 548-9845 NEW FAX: (904) 548-9846
Look right into the studios of America's top radio stations and see the country's best personalities on the air as they do their shows!
California Aircheck Video tapes are available in VHS (NTSC format as used in US, Canada, and Japan) or VHS PAL format (for Europe, Asia, New Zealand, Australia, etc.). Please specify the desired format when you order your videos. Videos are $39.95 per copy for VHS and $54.95 for VHS PAL formats. Please add $5 for airmail shipping outside of the US and Canada.

NEW! DVD copies! $45.00 each. These are not spectacular movie quality but better than VHS quality for those who find DVD more convenient than VHS tape. Playable in the US and Canada and anywhere else that an NTSC DVD player is used! (These are Region Free discs)
NEW! PAL DVD copies that will play in your standard DVD player sold in Europe and Australia/New Zealand (or anywhere else in the world that PAL is your video system). $55.00 each for PAL DVD (plus $3 for airmail shipping).

VIDEO #123 (June 2012) Discounted to $30 VHS, $30 DVD

, $40 PAL VHS CONVERSION TAPES for overseas use, $40 PAL DVD

for play anywhere in the world on a PAL DVD player (Region-free DVD). 2 hours Great video from around the country. From Tampa, it's CHR WFLZ PM Drive with SCOTTY DAVIS, Los Angeles' Oldies KRTH PM Drive with SHOTGUN TOM KELLY, AC KOST Los Angeles with morning team MARK & KRISTIN, Houston Country KKBQ PM Drive with CACTUS JACK, Atlanta CHR WWWQ Q-100 PM Drive with JOHNNY O, Las Vegas' CHR giant AM Drive with Zoo Vegas (CHET BUCHANAN, LAUREN & SPENCE), and from Boston's AC WBMX Mix 104.1, it's PM Drive with GREGG DANIELS, Fast Freddy & Frankie Fox. 2 fun-filled hours of great radio.


EASY ORDER BUTTON FOR US/CANADA CUSTOMERS

| | |
| --- | --- |
| | SCOTTY DAVIS is kickin' butt in PM Drive at CHR WFLZ/Tampa! Heavy personality with phones! |
| | |
| --- | --- |
| | Blippity blip, baby, it's the Old Shotgun, drivin' you home in your auto-mo-bubble. The Shotgun will be getting his star on the Hollywood Walk Of Fame in 2013. Right now, SHOTGUN TOM KELLY is smokin' on the afternoon show on Oldies KRTH/Los Angeles! Hittin' the phones, and giving away trips to Hawaii. You better believe it, baby! |
MARK & KRISTIN with Producer Rodrigo have a very topical morning show at AC KOST/Los Angeles. Great bit about family road trips...cancelled TV shows, Hollywood Roundup, Mark & Kristin's "Behind The Song" and more....killer family-friendly morning show!
| | |
| --- | --- |
| | CACTUS JACK has a very contemporary approach for Country (he should, he spent time at Z100/New York back in the day) at KKBQ/Houston. Great PM Drive show! |
| | |
| --- | --- |
| | |
| | CHET BUCHANAN, LAUREN & SPENCE (Zoo Vegas, the Morning Zoo) are one of the huge morning shows in Las Vegas at CHR KLUC. They are lining up contestants for the chihuahua races, and a great bit on double dipping. Killer morning show. |
| | |
| --- | --- |
| | Not a ton of talk on Q-100 after AM Drive but afternooner Johnny O works in the personality and phones on CHR WWWQ/Atlanta. Good CHR afternoon show! |
| | |
| --- | --- |
| | |
| | Here is the personality PM Drive show for Boston, from Hot AC Mix 104.1 WBMX with GREG DANIELS, FAST FREDDY & FRANKIE FOX! Tons of phones, and a very local bit on the closing of locatio9ns of Friendly's restaurants. Killer afternoon show! |
OVERSEAS ORDERS: BE SURE TO SPECIFY NTSC OR PAL VIDEO!