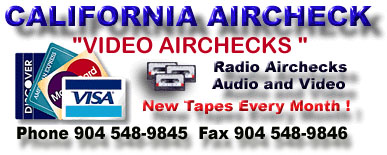 VIDEO #130
Look right into the studios of America's top radio stations and see the country's best personalities on the air as they do their shows!
California Aircheck Video tapes are available in VHS (NTSC format as used in US, Canada, and Japan) or VHS PAL format (for Europe, Asia, New Zealand, Australia, etc.). Please specify the desired format when you order your videos. Videos are $39.95 per copy for VHS and $54.95 for VHS PAL formats. Please add $5 for airmail shipping outside of the US and Canada.

NEW! DVD copies! $45.00 each. These are not spectacular movie quality but better than VHS quality for those who find DVD more convenient than VHS tape. Playable in the US and Canada and anywhere else that an NTSC DVD player is used! (These are Region Free discs)
NEW! PAL DVD copies that will play in your standard DVD player sold in Europe and Australia/New Zealand (or anywhere else in the world that PAL is your video system). $55.00 each for PAL DVD (plus $3 for airmail shipping).
VIDEO #130 (January 2015) Discounted to $30 VHS, $30 DVD

, $40 PAL VHS CONVERSION TAPES for overseas use, $40 PAL DVD

for play anywhere in the world on a PAL DVD player (Region-free DVD). 2 hours Great video from around the country. Video #130 includes 2 fun-filled hours of great radio. From CHR KHKS/DALLAS it's BILLY THE KIDD (PM Drive), ATLANTA's Country WUBL (The Bull) with JASON PULLMAN & KRISTEN GATES (AM Drive), CHR KDWB/MINNEAPOLIS with DAVE RYAN SHOW (Dave Ryan, Falen & Steve-O) (AM Drive), from UC Hot 105 WHQT MIAMI it's RICK PARTY with Big Man Kelly& Lady D. (PM Drive), SEATTLE's CHR KUBE 93 with ERIC POWERS and DIRTY HARRY (PM Drive), and CHICAGO'S Classic Hits WJMK (K-HITS) with DAVE FOGEL (AM Drive). Great personalities from all formats and dayparts. Click here for more info and pictures of Video #130.
USE BUY IT NOW BUTTON DIRECTLY ABOVE TO PURCHASE VIDEO #130 - USA/CANADA CUSTOMERS
| | |
| --- | --- |
| | KHKS Kiss FM Dallas' BILLY THE KIDD is one killer afternoon CHR show! Plenty of phones this afternoon! Billy is awesome on the air! |
JASON PULLMAN & KRISTEN GATES have a morning show headed to the top in ATLANTA at Country WUBL (The Bull). Phones and topical material on this great morning show.
THE DAVE RYAN MORNING SHOW (DAVE RYAN, Falen and Steve-O) AT CHR KDWB/MINNEAPOLIS is the big morning show in the Twin Cities. This is a VERY personality-driven morning show with lots of phones. Dave has been doing the morning show at KDWB for 20+ years now; no wonder.
RICK PARTY (with Big Man Kelly and Lady D.) is back on the air in MIAMI at UC Hot 105 WHQT. He's got phones and big contesting going on this afternoon. Great afternoon show!
Rhythmic CHR KUBE 93 SEATTLE has got a great afternoon show with ERIC POWERS and DIRTY HARRY. The big KUBE Summer Jam 2014 concert happens tomorrow; Eric & Harry are hitting the phones for some great material from the concert goers. Big afternoon show for Seattle!
| | |
| --- | --- |
| | It's a more music morning show at Classic Hits WJMK CHICAGO (K-HITS) with DAVE FOGEL. Dave keeps it rolling with class. |